The Workout
The Ajax Women's Boxing Boot Camp work out will not only challenge you, it will drive you towards your personal best. Each class will expose you to some of the exercises and combinations that we hand select from our collection to help create muscle confusion on a regular basis.
Starting off with a run, we blast you with intense cardiovascular and anaerobic exercises that are time based, pushing you to exhaustion and failure.
Just when you are ready to give up – we won't let you! It is time to get your wraps and gloves on and start the boxing segment of the workout. We throw real boxing punches in our boot camp — however we are not limited to just boxing punches, so be ready to throw kicks, elbows, and knees too!
The final segment of the workout is strength and core work. We choose a new core workout every class from the hundreds of different exercises we have banked to ensure maximum fat and calorie burn. Stop saying tomorrow. No more excuses!
The Rules
No sitting down.
No sitting down!
Do not show up late.
Do not let us catch you on your cell phone.
Do not screw up the first 4 rules.
Do exactly what your boxing coach tells you.
If you bring somebody new to class and they break a rule, you do the punishment.
If you think we are kidding. Think again.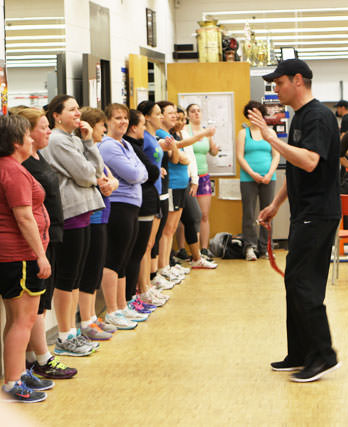 A few words from the ladies...
"I've tried many, MANY workouts and clinics over the years but never have I been dedicated to getting fit like
I am going to the Ajax Women's Boxing Boot Camp class at the Ajax Boxing Club. The coaches give me the push I need to go further than I ever thought possible.
I always feel amazing after class - like I really accomplished something. AND there is a great group of women to workout with! I'm addicted!!!" - Lisa S.